Revlon Professional® reactivates the hairdressing sector with its international event Front Row Summit™
Over 1,500 hair stylists met in Madrid last Sunday, May 15th to take part in the first Revlon Professional® Front Row Summit, a brand event that has once again, placed hair professionals at the forefront of the sector through inspiration, trends, co-creation, and innovation.
Remaining at the cutting edge of trends, innovations, and the needs of today's client, who seeks an unforgettable beauty experience in the hair salon, are key for the hairdressing sector. With this goal in mind, and with Revlon Professional® committed to contributing towards the growth and development of the hair stylist's business and help them create their own brand identity, Revlon Professional® deployed an intense program of speeches and talks with a marked emphasis on technology, which placed those present at the center of the interaction.
Inspiration takes the stage at Front Row Summit 2022
The event, which was led by Miquel Garcia, VP Global Creative, started with the presentation of Macrotrends, an interesting approach to consumer, hairdressing, makeup, and lifestyle trends for the coming 2023, such as the return of middle parts, baby braids, pastel shades and bright, iridescent colors.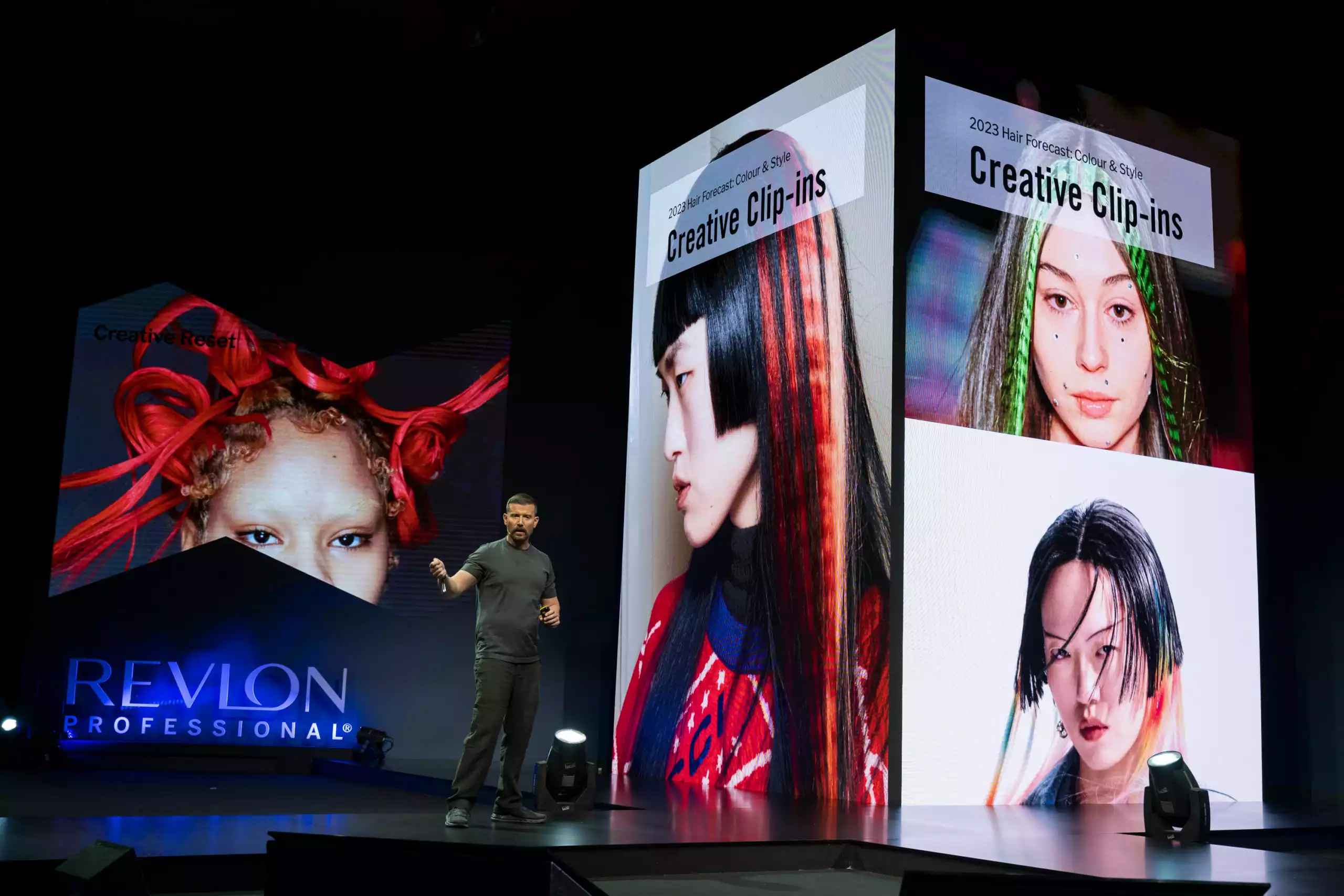 The presentation was followed by an Expert Panel, which reflected on the challenges of hairdressing today and included the participation of Steve Rowbottom (Director of Westrow), Mike Vincent (Editor of Tribute Magazine), Mia Carol Bruguera (CEO of Carol Bruguera), Lewis Amarante (Makeup Artist), Jayne Lewis-Orr (Executive Director of Professional Beauty Group), and Eva Ziegler (Brand & Marketing Executive). Diversity, inclusion, and the essentiality of our work were the major themes that came up in our expert panel. Clients no longer buy products, they buy relationships, stories, and magic. That's why it's key for hairdressers and salon owners to offer a complete 360 experience.
Innovation: The Global Premiere of Revlonissimo Colorsmetique™
The 1,500-plus professionals at the event had the chance to hear Mario Aragón, SVP Global Marketing, and Ingrid Kadlecová, Global Education Manager, present the exclusive global premiere of the new Revlonissimo Colorsmetique™.
The innovative Revlonissimo Colorsmetique™ offers a permanent hair color range with a dual approach that combines science and beauty. Formulated with KER HA Complex™, the ultimate color and care complex, the new Revlonissimo Colorsmetique™ reinforces, seals, and protects hair integrity from the inside, guaranteeing a precise color deposit for a visible, sophisticated, true-to-tone augment color result that lasts.
Discover limitless hair color possibilities and fully express your creativity with 149 augmented shades to meet the most demanding needs of clients and achieve outstanding results. From up to 100% gray coverage to vivid results, our new Revlonissimo Colorsmetique™ formulas offer the solution for every client. A sophisticated color with the perfect balance between coverage, transparency, color dyes and shine for high-dimension color from roots to ends.
For Revlon Professional®, hair stylists are at the core of all its activities. At the Front Row Summit, this commitment reached the next level, co-creating the Revlonissimo Colorsmetique™ Color of the Year 2023 live with its community of hair stylists during the event. The results will be revealed over the coming year!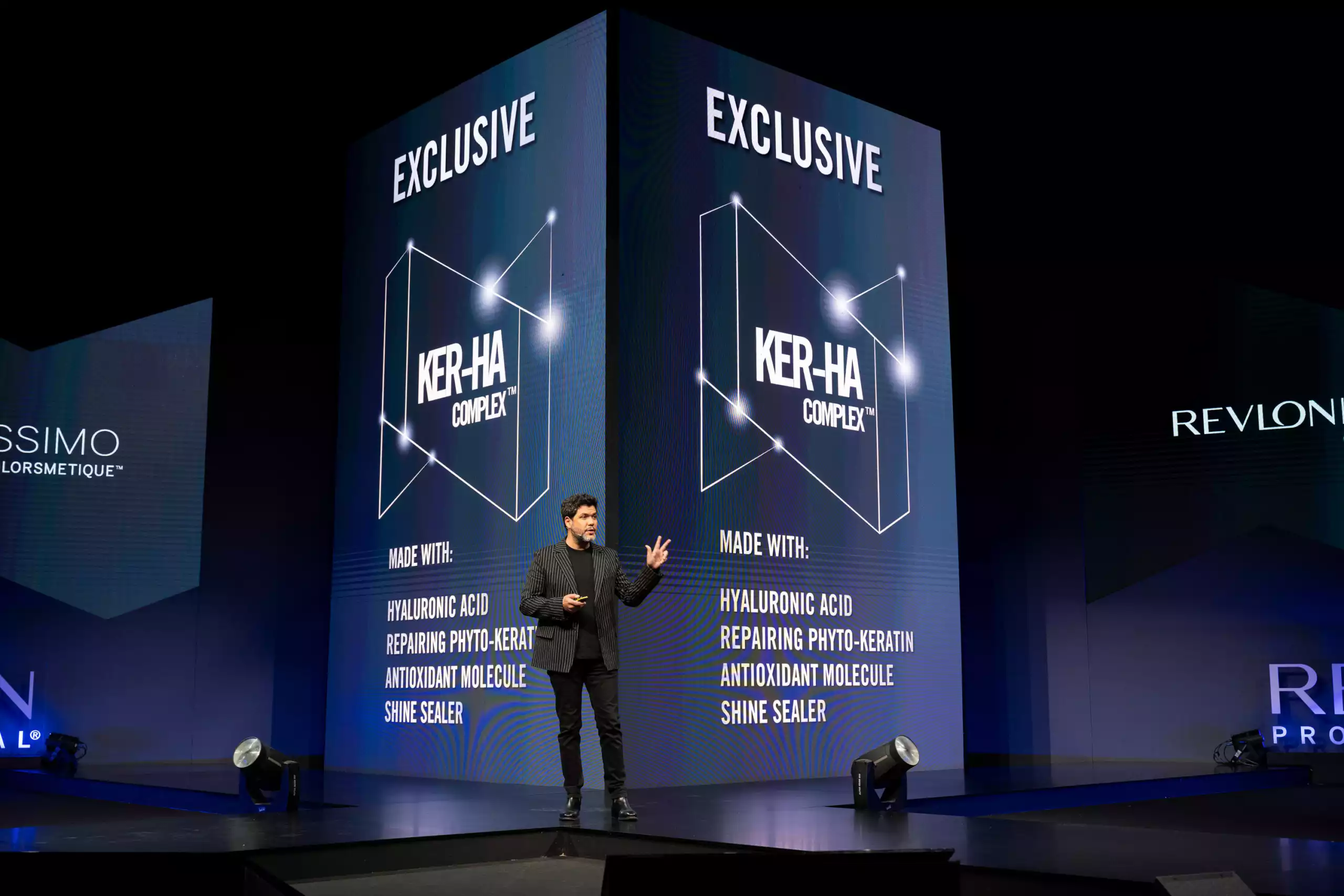 Creativity: The HELIX Runway Show with Manuel Mon and Mark Leeson
Revlon Professional®'s global ambassadors Manuel Mon and Mark Leeson shared their impressions of the new Revlonissimo Colorsmetique™ color, which they worked with when creating their amazing, avant-garde looks for the HELIX Runway Show.
"It has been really easy to work with Revlonissimo Colorsmetique™," Manuel Mon said excitedly from the stage, where he highlighted the importance of color in his creations. "I always look for chromatic harmony between cooler and warmer blondes. I've played with the violet palette and mixed it with different shades from the most pastel to darker tones." His eight new looks, which he presented exclusively for the packed auditorium of hairdressing professionals who were eager to see his vision, were delicate designs that, together with the music, transported us into a dream world. Straight lines were notably present in his creations and reflected the HELIX symbol that represents the new Revlonissimo Colorsmetique™ range. "Thanks to the new Revlonissimo Colorsmetique™ coloring, I have been able to surpass myself and enhance the looks of my models even further. I have been working with Revlon Professional for 33 years and I am who I am today thanks to this great brand, which has outdone itself."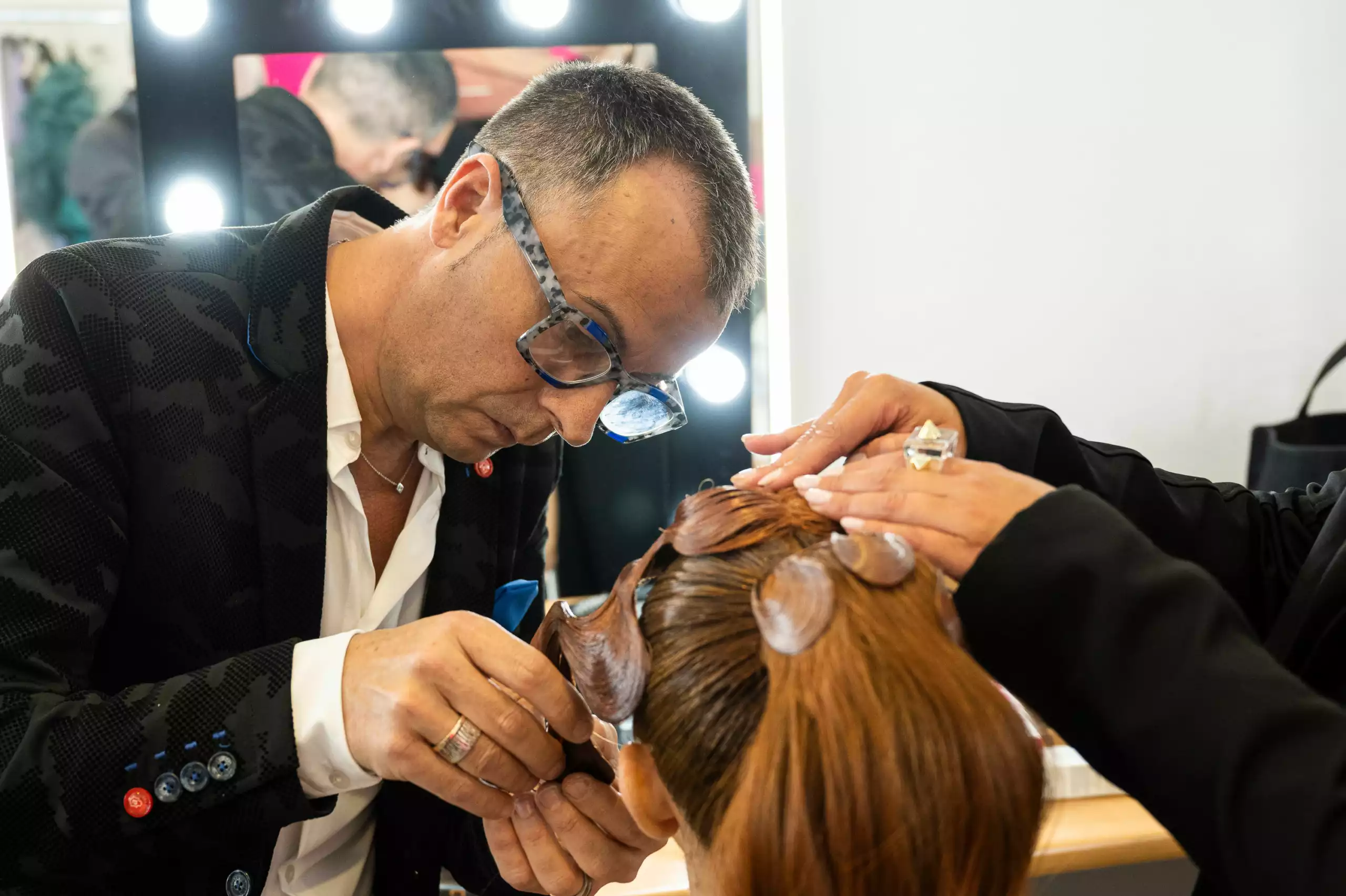 For his part, Mark Leeson showed us a color story that featured a vibrant, intense Revlonissimo Colorsmetique™ palette that transported us to a rock and roll version of London. He mixed this with a pastel palette and thus created a whole universe of contrasts. "I am passionate about bringing all this color work to life on the catwalk. Going from simpler looks to more intense ones surprises the audience and the last look took their breath away.". Mark wisely advised us: "on a catwalk the important thing is to make an impact, don't hold back your creativity!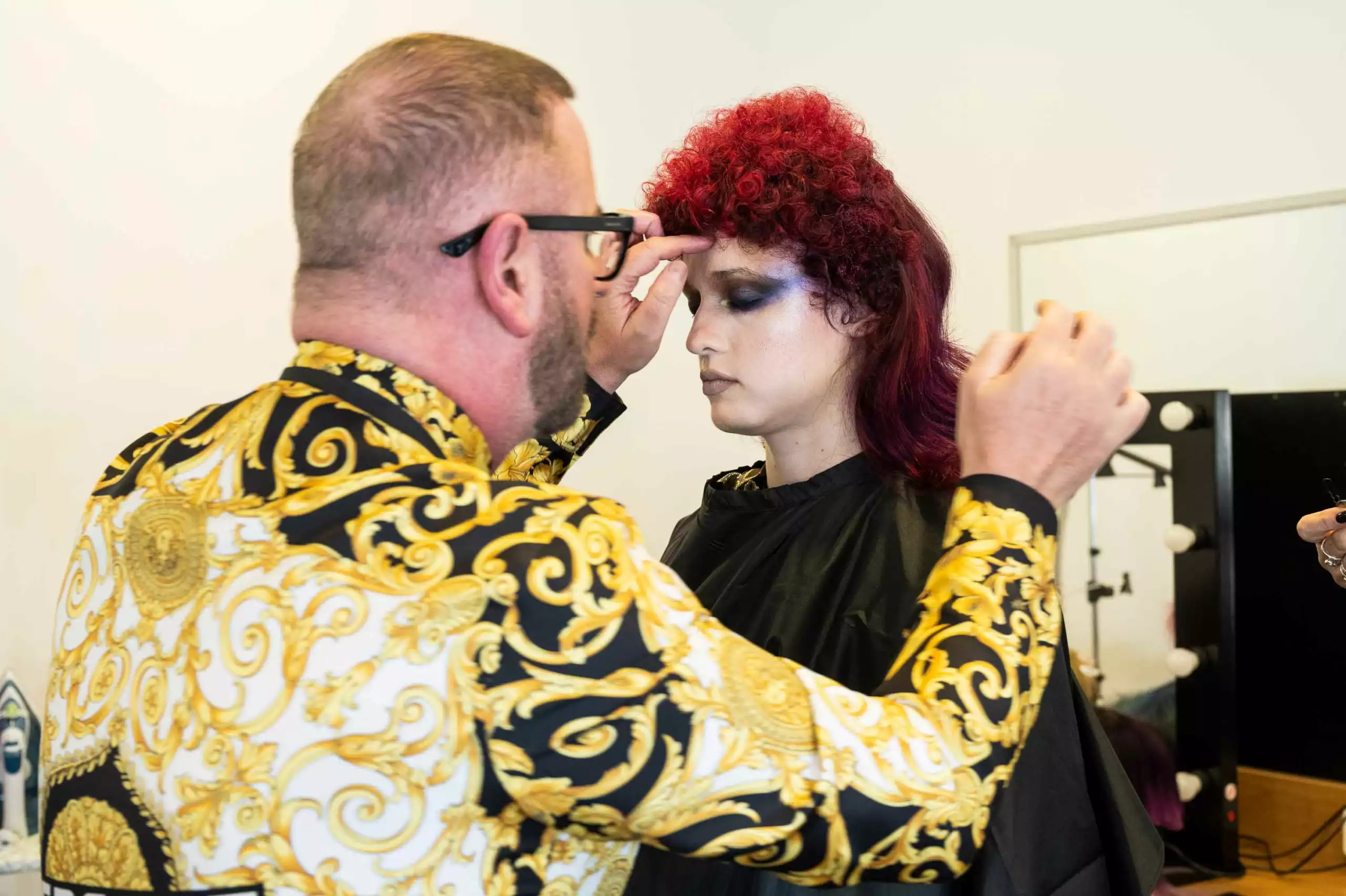 The catwalk showed off look after look that was full of life and color! This was the culmination of the fantastic Front Row Summit 2022 that inspired us to think more innovatively about our work and about the looks we create.
International Hairdressing Awards
This unforgettable weekend ended with the 4th International Hairdressing Awards. Revlon Professional®, sponsor of these awards since they began, shares the mission of these awards in recognizing the talent, art, and creativity of hair professionals.  This time, IHA brought together the legends of contemporary hairdressing Robert Lobetta, Anthony Mascolo and Toni Rizzo on the same stage, as well as performances by world-famous artistic teams such as X-presion, Pierre Ginsburg, Danilo Giangreco, and Noname. Discover all the details about the IHA Awards 2022 here.