THE FIRST PROFESSIONAL THALASSOTHERAPY HAIR RITUAL.
FEEL THE POWER OF THE SEA, SCIENCE, SENSES.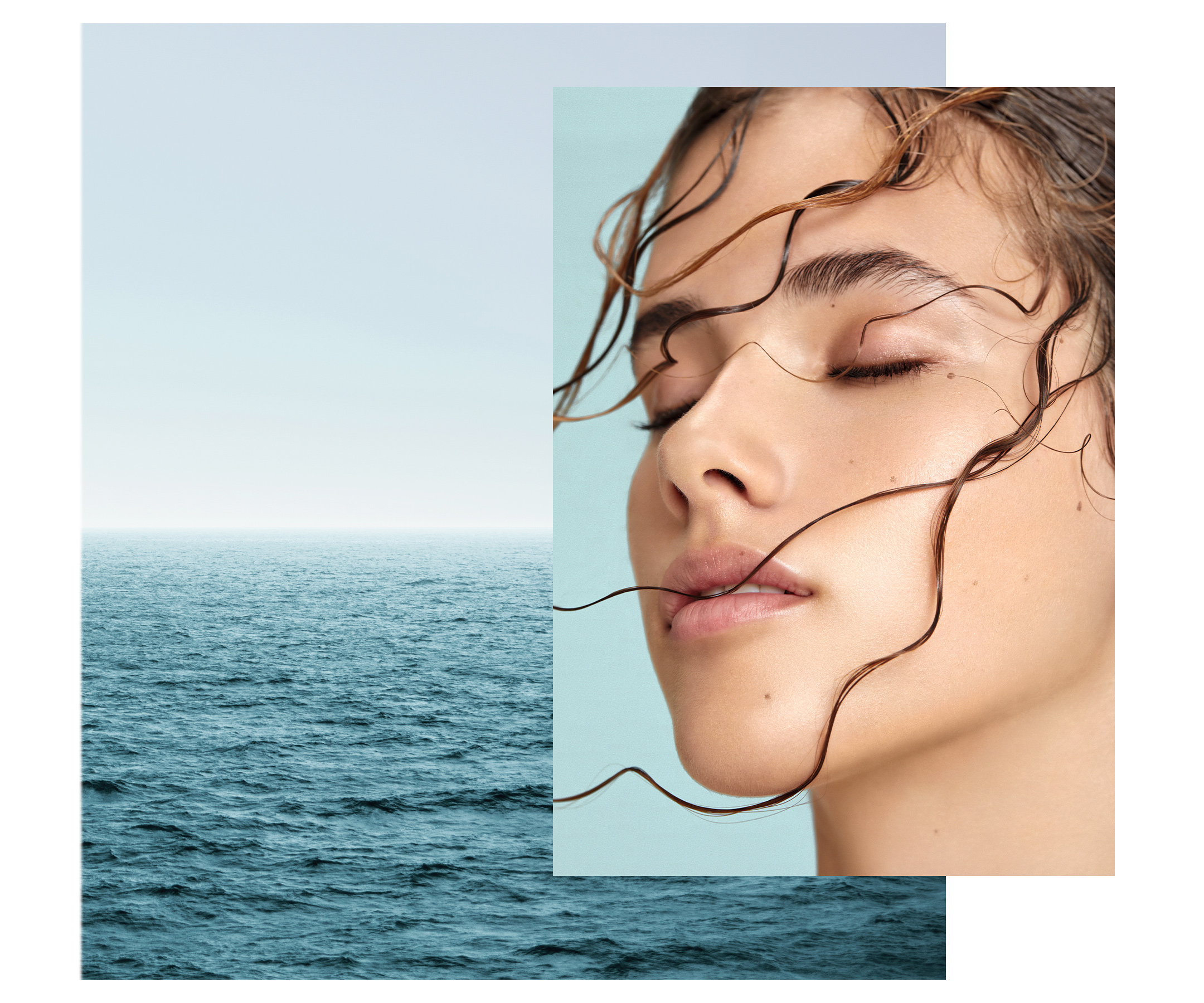 INTRODUCING A NEW HAIR EKSPERIENCE™.
The fast-paced world that we live in and our modern lifestyle habits make it difficult to find the perfect balance for all aspects of our life, leading us to make daily choices that affect our health and ultimately, our hair.
When taking care of our hair, we have gotten used to only treating it cosmetically, relying on quick hair fixes. They give the impression of shiny, healthy hair, when in fact, they only offer instant, superficial results, not treating hair from the core.
It is time for a different approach to treating hair. Discover a new and holistic take on hair beauty.
We introduce you Eksperience™, the first thalassotherapy hair ritual as a different approach to hair care.
THE WISDOM OF THE SEA IN YOUR HANDS.
Eksperience™ is born from thalassotherapy, which involves the use of seawater and other marine ingredients, owing to their abundance of properties, as a form of therapy.
It rendered all the Wisdom of the Sea into wellness beauty rituals for the hair and scalp, offering extraordinary results that can be taken to the next level by your very own hands.
For more than 20 years we have researched the vast and extraordinary abundance of the sea and, as a result of our advanced scientific approach, we meticulously select and extract rich and active marine ingredients to make our formulas, which treat, nourish and replenish the hair and scalp, more effective.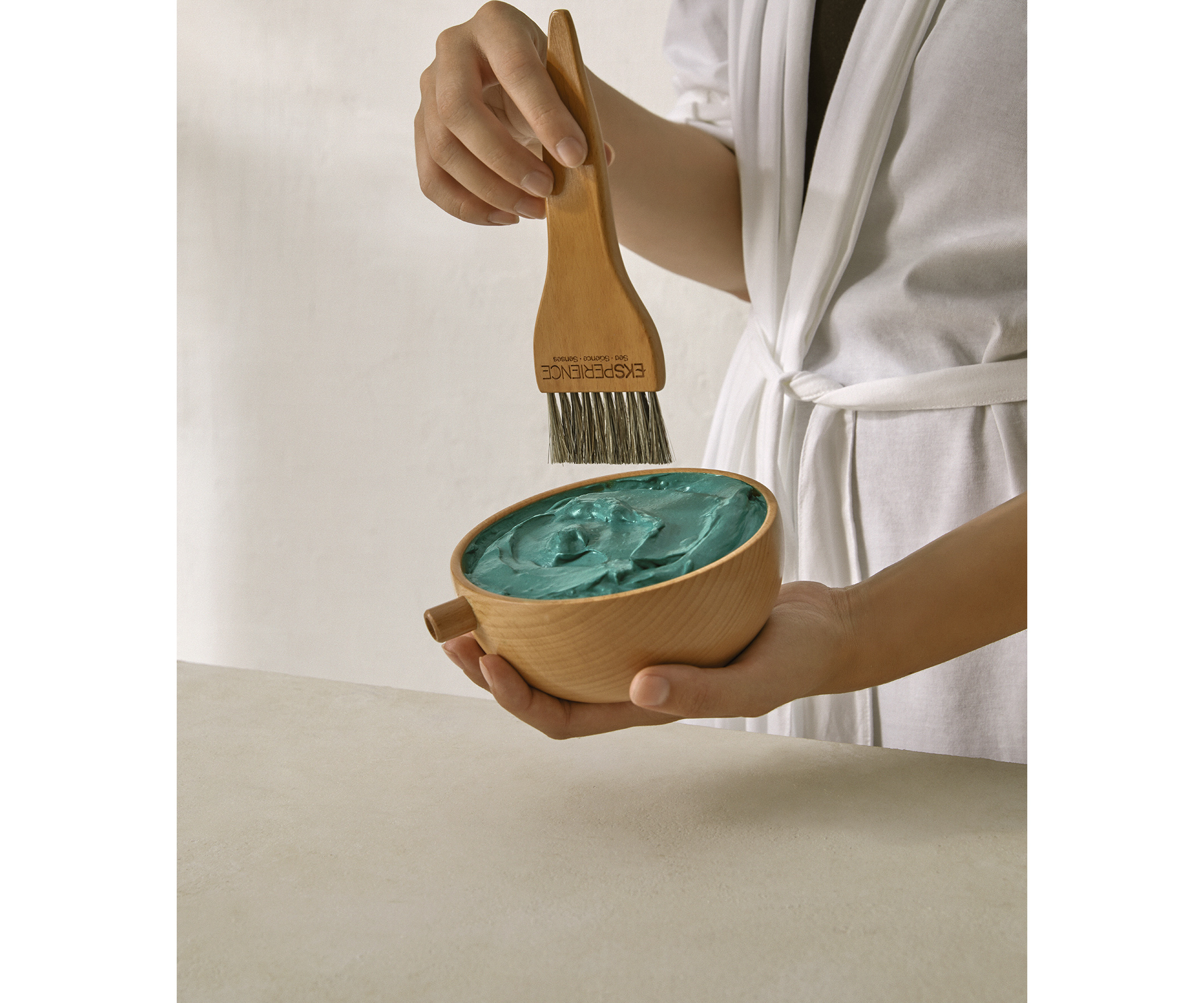 The SEA is at the heart of Eksperience™ with the Aquamaris Complex: an exclusive blend of pure seawater and marine ingredients.
Aquamaris Complex formulated with:
Noirmoutier sea spring water, which is rich in trace elements and seeps up from the seabed at a constant temperature of 14ºC ensuring its beneficial properties remain active and unaltered.
Fucus vesiculous algae and actin protein to aid the distribution of the Aquamaris Complex over the scalp and hair.
Specific algae, which is rich in enzymes, proteins, minerals and vitamins, for each different Eksperience™ treatment.
SCIENCE is present in every product in the Eksperience™ range as well as nature, each ingredient works in perfect harmony with one another and is proven safe to use and outstandingly effective.
SENSES are awaken with each Eksperience™ specific beauty rituals for hair shine, nourishment, reconstruction and hydration. They all involve each and every one of our senses, with the purpose of restoring the customer's sense of balance and wellbeing while enhancing the effectiveness of our hair treatments.
We have worked to increase our awareness and reduce our impact on the environment, which is why use FSC-certified paper from sustainable, ethically-managed forests and source recyclable plastic and glass for our bottles. These are just some of the steps we have taken as part of the long journey that we would like to undertake together with you as a result of our deep respect for the ocean and the planet.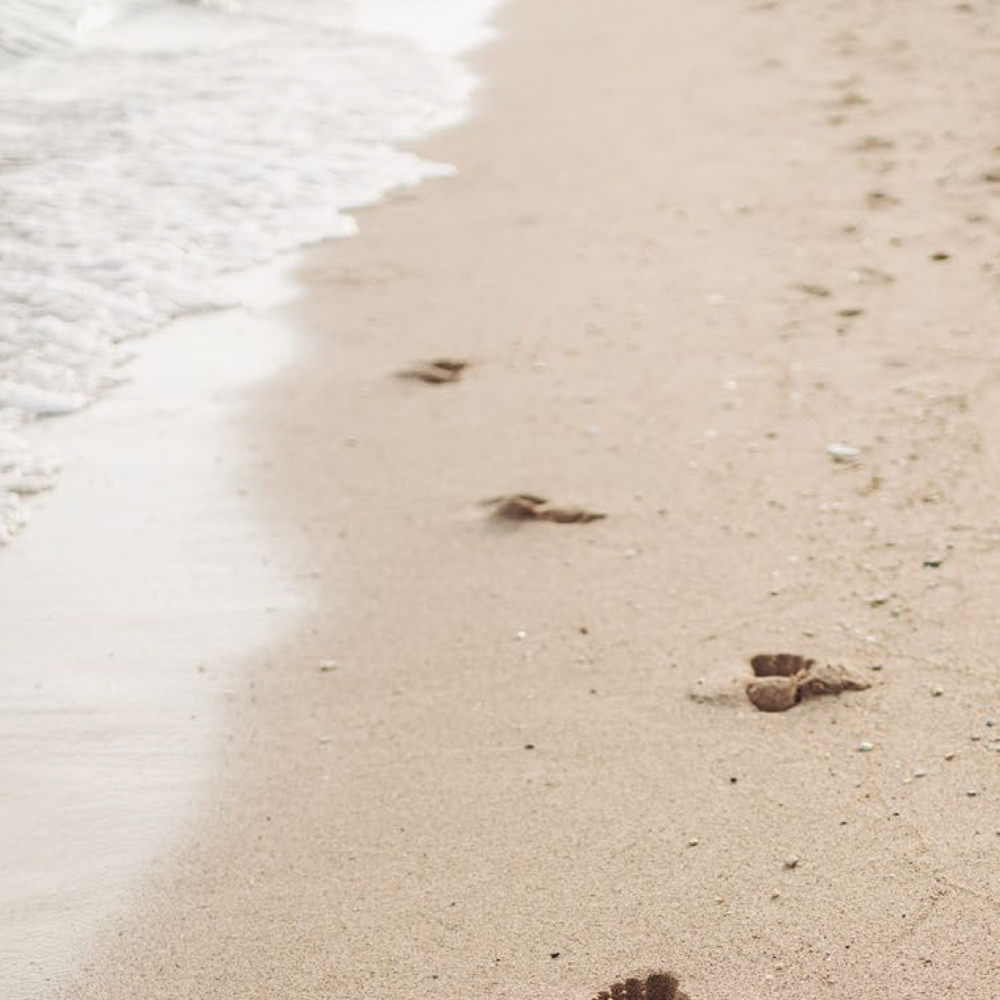 ANTI HAIR LOSS
Hair loss affects men and women alike and can appear at any point in your life. It is often related to both internal and external factors that tend to become more pronounced as we age.
Hair loses its vitality and either stops growing or becomes thin and fragile, losing its elasticity and shine until it eventually falls out.
AQUAMARIS COMPLEX
Rhodophycea algae
+ Oligo elements
+ Fucus-actin
CLINICAL TEST FOR REVITALIZING LOTION
Significant increase in density in only 2 months.
41,2% Reduction in loss of hair when washing.
CONSUMER TEST FOR REVITALIZING TONING
85% Say their hair is revitalized
82% Say their hair seems younger
82% Say their hair is more manageable
73% Feel a sensation of freshness
89% Say the product is quick absorbed
*Consumer Test in 100 subjects.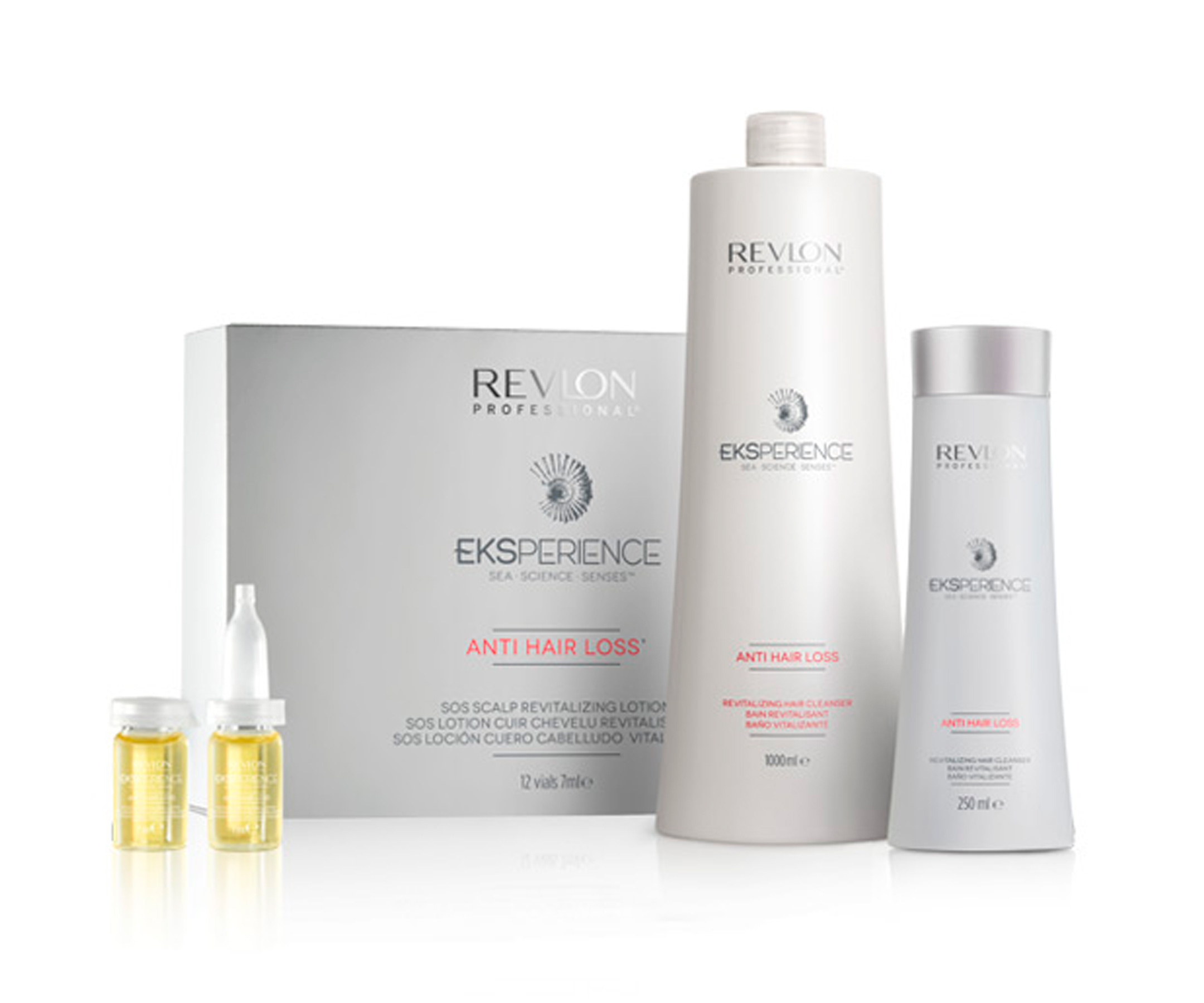 BOOST
Boost is a range of highly-effective formulas designed as a powerful complement to hair beauty treatments.
The original multi-tasking Boost products, Multivitamin Cocktail and Phase 0 Scalp Prep, are ideal for use at home or in the salon, on their own or in combination with other products.
These products are formulated to deep clean the scalp and provide the hair and scalp with a rich cocktail of vitamins developed to boost hair strength.
The innovative Booster Dose System, available in four need-specific formulas, complements this versatility by providing intensive action as part of salon-exclusive treatments in order to tailor each hair treatment to perfection.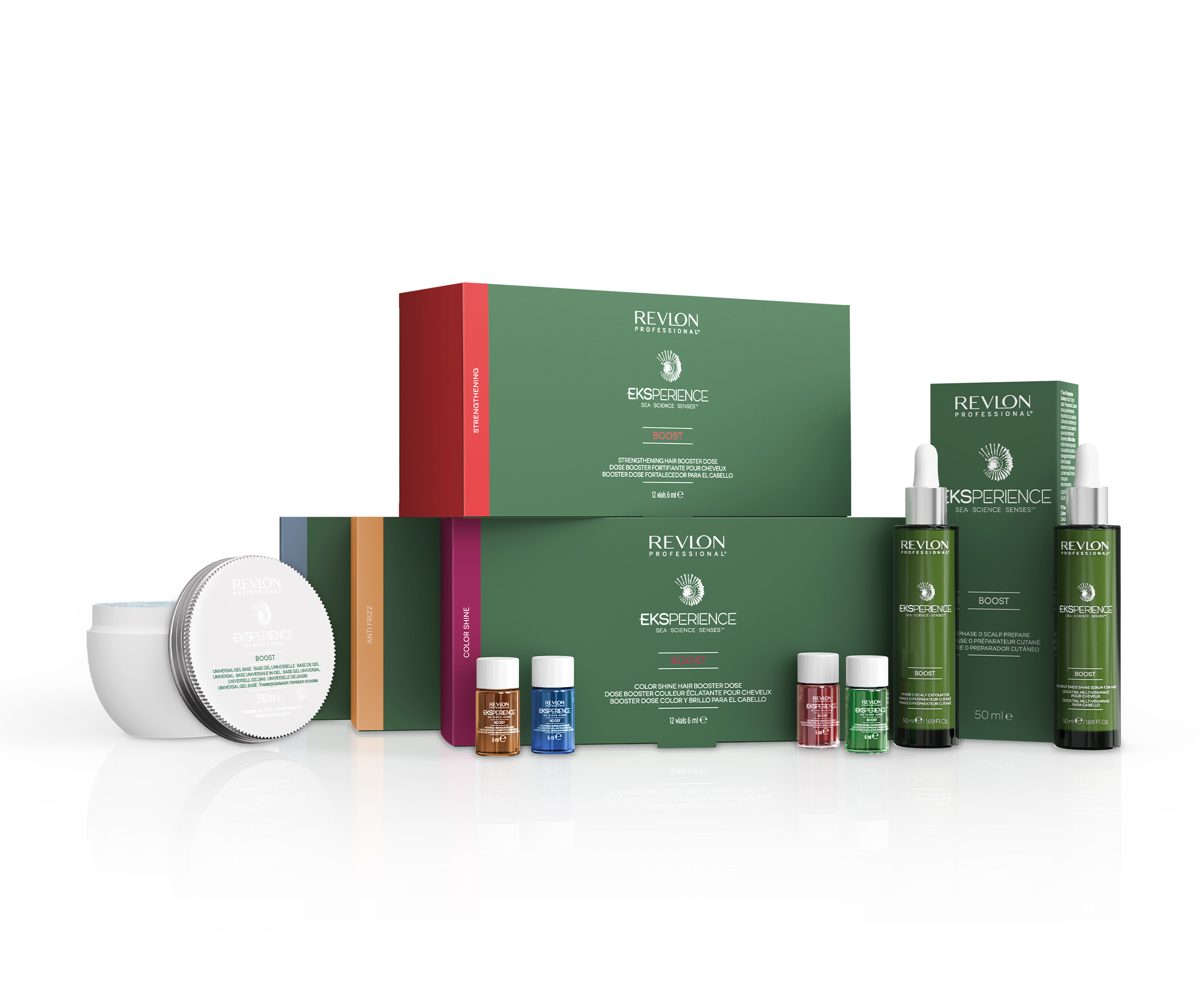 COLOR PROTECTION
Colored hair requires targeted treatment to reduce color fading and maintain color intensity for extended periods of time.
Eksperience™ Color Protection is a range for colored and treated hair that creates a protective barrier to protect color for longer.
AQUAMARIS COMPLEX
Porphyra umbilicalis algae
+ Oligo-elements
+ Fucus actin
SPECIFIC ALGAE & INGREDIENTS IN THE PRODUCT RANGE
Porphyra umbilicalis algae
Fucus vesiculosus algae
Glycerin
Provides elasticity and increases the hair's water reserves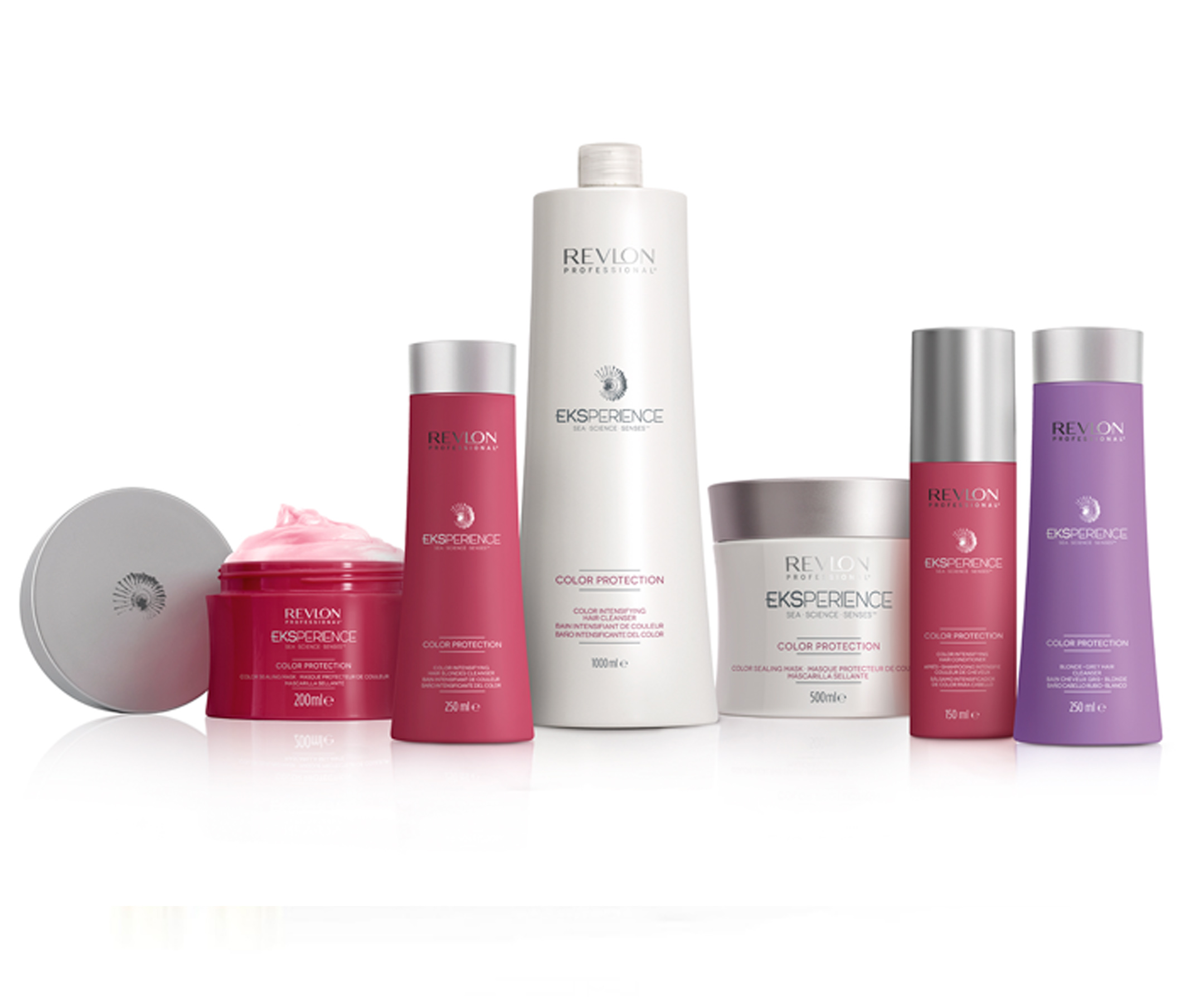 DENSI PRO
As we grow older our hair looks thinner, becoming more fragile and more prone to breakage and the scalp becomes more sensitive and more easily irritated.
Eksperience™ Densi Pro is a range of formulas offering ageless beauty, vigor and vitality for hair that has become thin and dry due to aging.
AQUAMARIS COMPLEX
Ulva lactuca algae
+ Oligo elements
+ Codium
Tomentosum algae
+ Pearl extract
+ Fucus-actin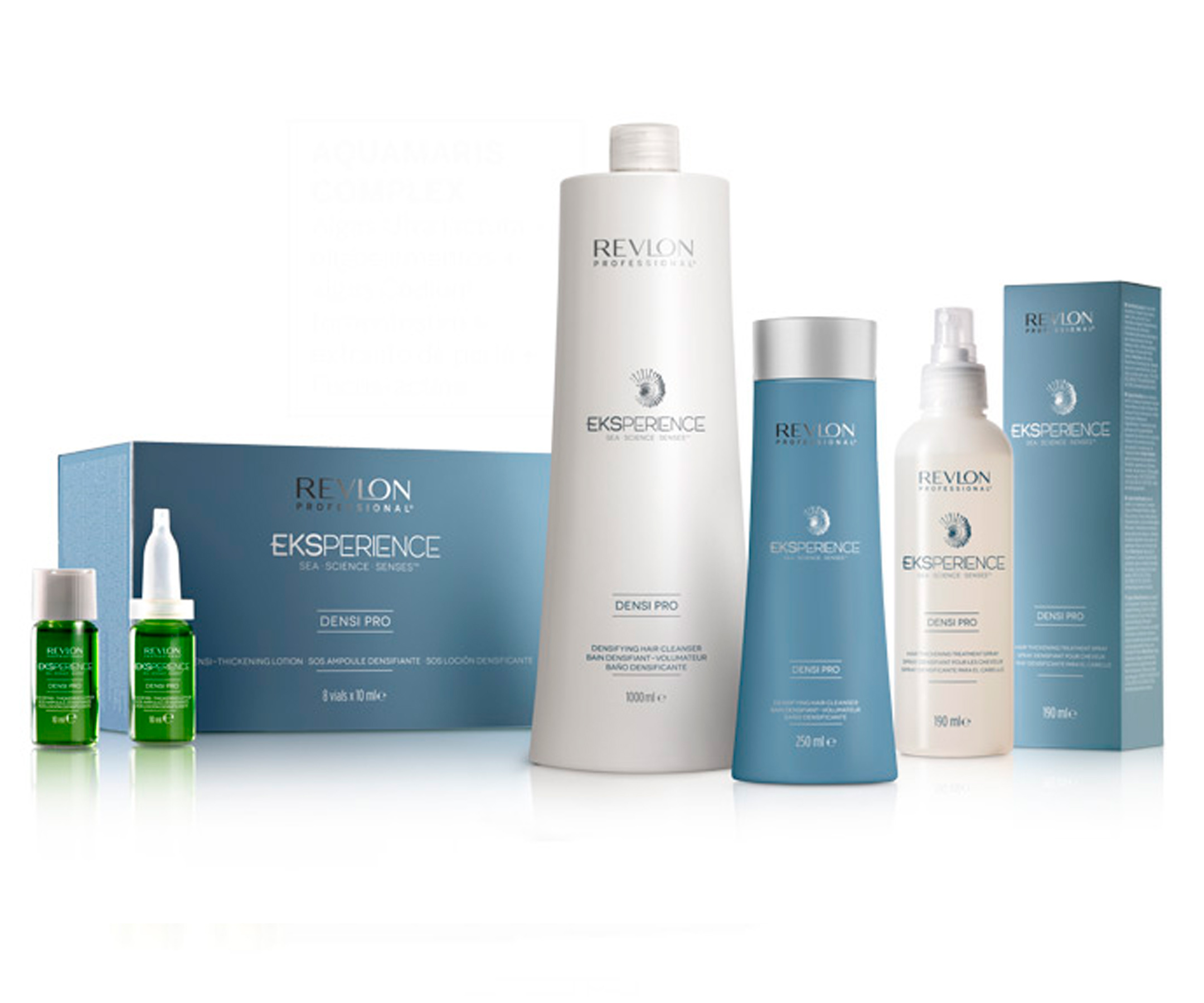 HYDRO NUTRITIVE
Dry, damaged hair is caused by environmental or stress factors that deplete and damage the hydrolipidic film, causing the hair to lose moisture and nutrients.
The Eksperience™ Hydro Nutritive treatment contains ingredients that help to provide deep nourishment and hydrating action.
AQUAMARIS COMPLEX
Chondrus crispus algae
+ Oligo-elements
+ Fucus actin
SPECIFIC ALGAE AND INGREDIENTS IN THE PRODUCT RANGE
Chondrus crispus algae
Fucus vesiculosus algae Actin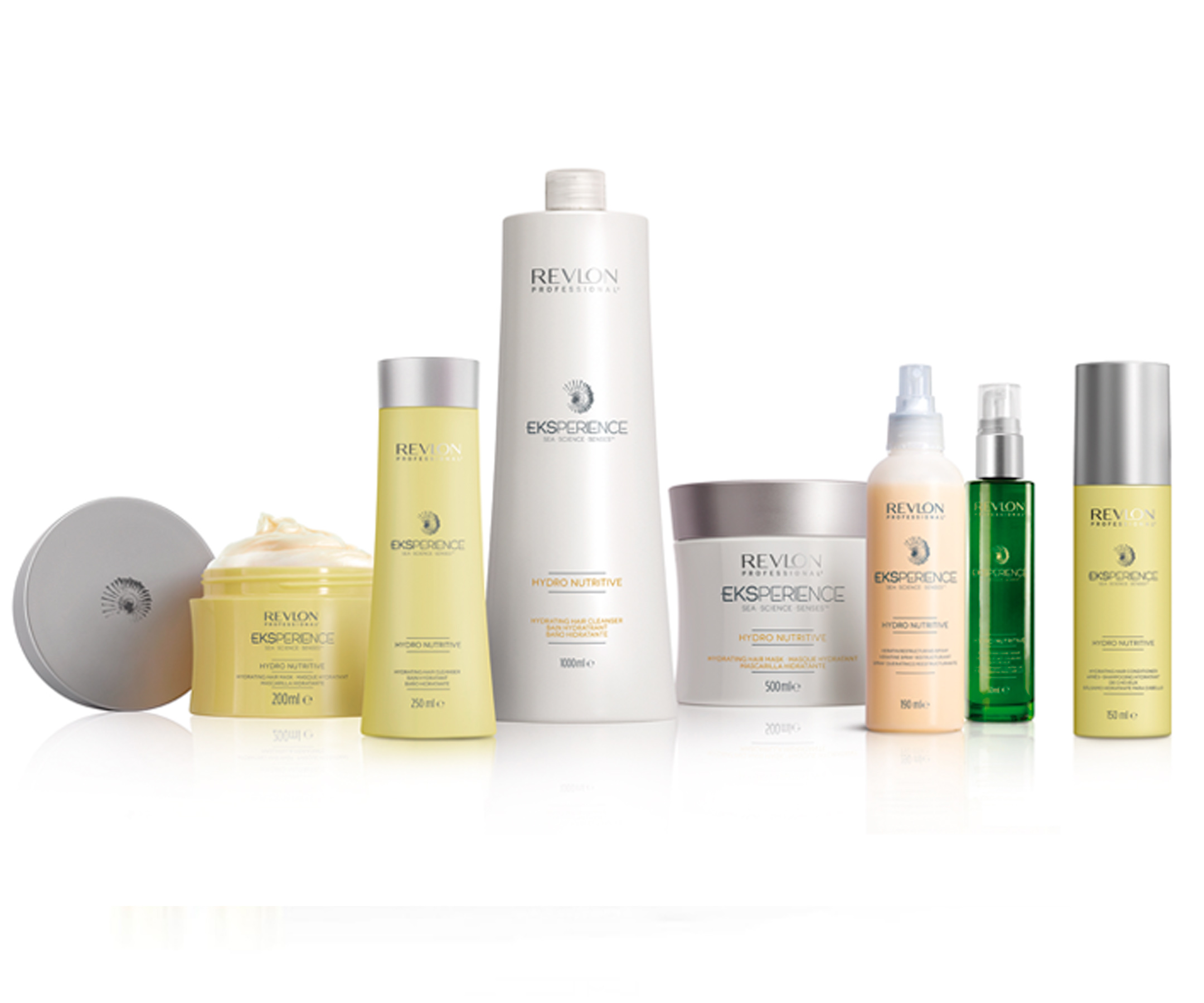 PURITY
Dandruff is caused by and accumulation of mature skin cells on the scalp, which form scales that can lead to a dry, flaky and itchy scalp. The Purity range is formulated to cleanse with maximum efficacy.
AQUAMARIS COMPLEX
Pelvetia canaliculata algae
+ Oligo elements
+ Fucus-actin
CLINICAL TEST
70%* of subjects showed dandruff reduction after a week of use.
*Test carried out on 20 subjects with Purifying Hair Cleanser + SOS Scalp Purifying Lotion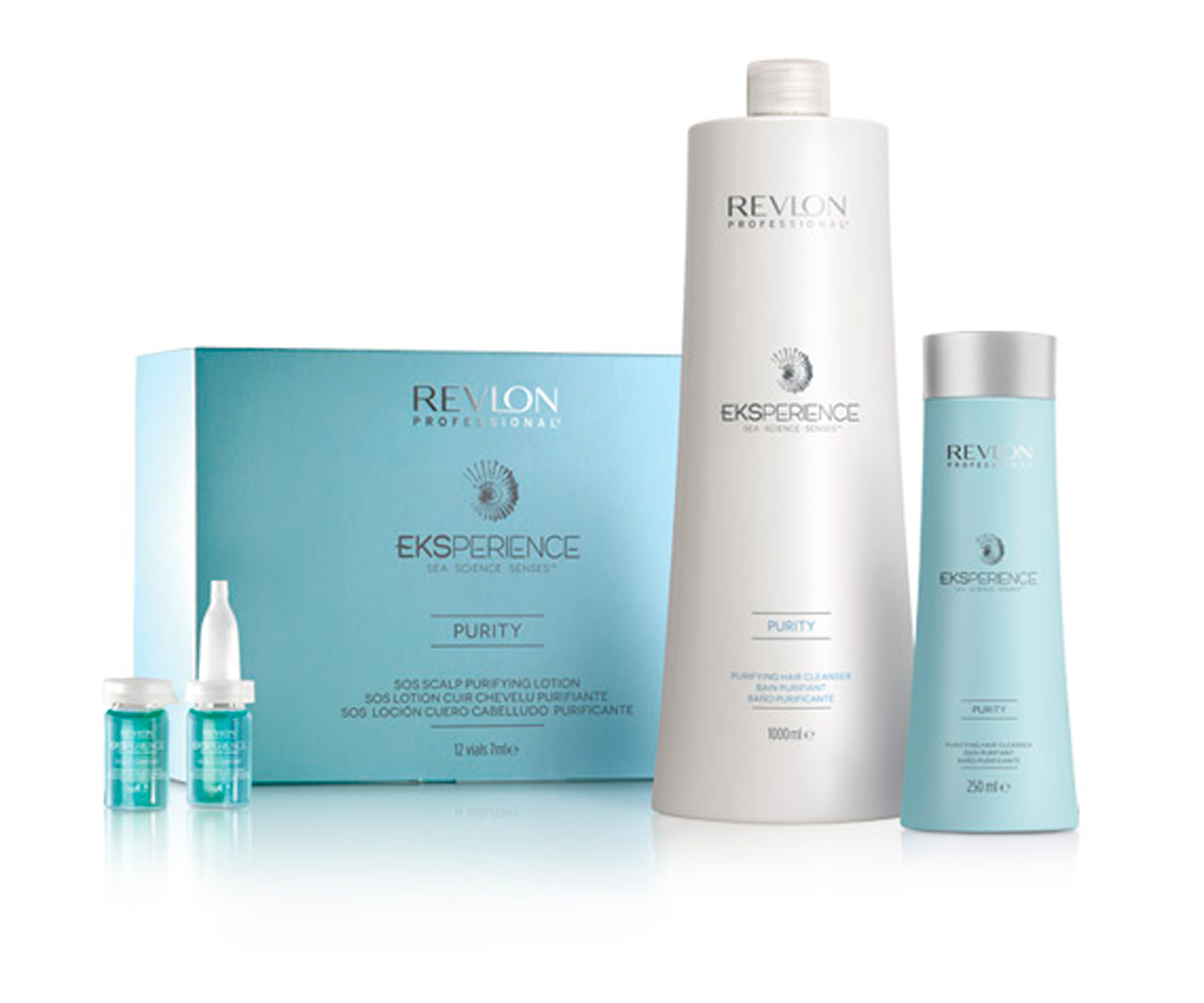 RECONSTRUCT
The strength of the hair is constantly being undermined by various internal and external factors. The result is weakened hair that looks dry and dull.

Eksperience™ Reconstruct is a professional treatment formulated with ingredients that help to reconstruct the hair fiber, restoring elasticity and softness in hair that has become thin, porous and damaged.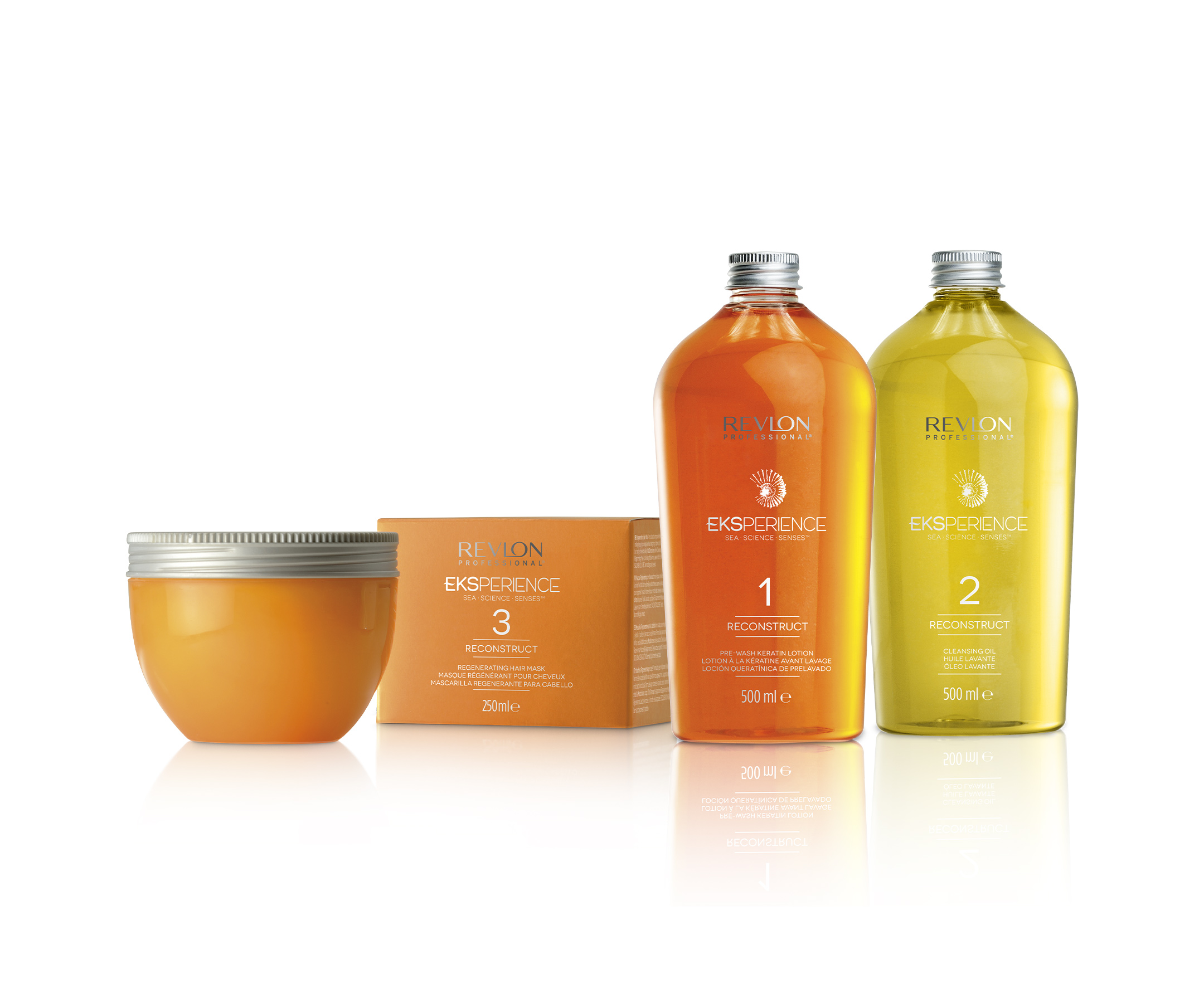 SCALP COMFORT
A dry, sensitive scalp needs soothing and relief as well as gentle cleansing treatments. Scalp Comfort is a range formulated to soothe and moisturize while gently cleansing.
AQUAMARIS COMPLEX
Enteromorpha & himanthalia elongata algae
+ Oligo elements
+ Fucus-actin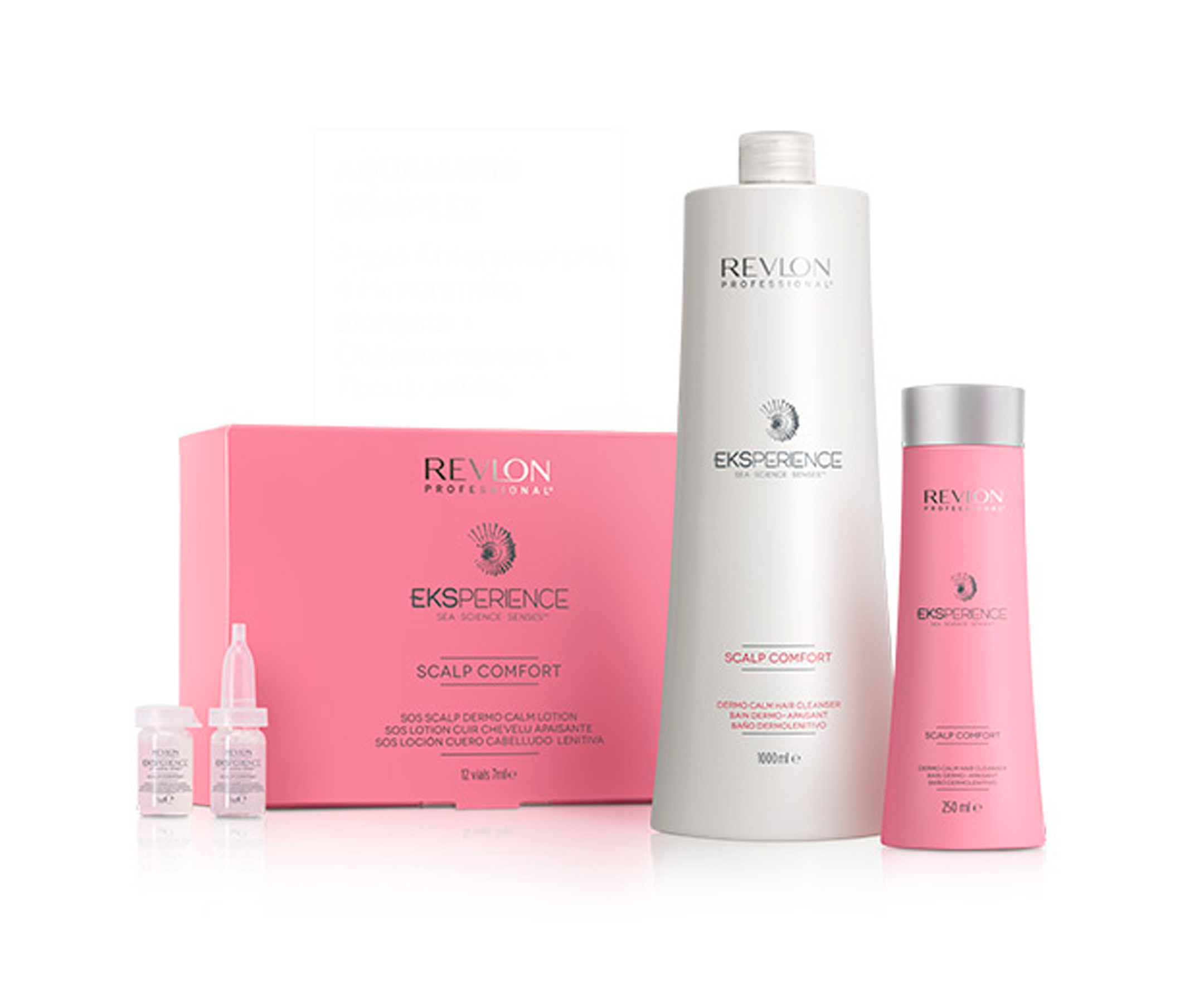 SEBUM CONTROL
Abnormal sebum production can cause the scalp and hair to be greasy and with undesirable bad odor. The Sebum Control range is formulated to help control excess sebum and leave the hair soft, light and hydrated.
AQUAMARIS COMPLEX
Laminaria saccharina algae.
+ Oligo elements + Fucus-actin.
CLINICAL TEST
27% less sebum on the scalp after one week.
100% of subjects showed evident reduction of sebum after the second wash.
Carried out on 40 subjects FOR 1 MONTH.
(Balancing Hair Cleanser + SOS Scalp Balancing Lotion).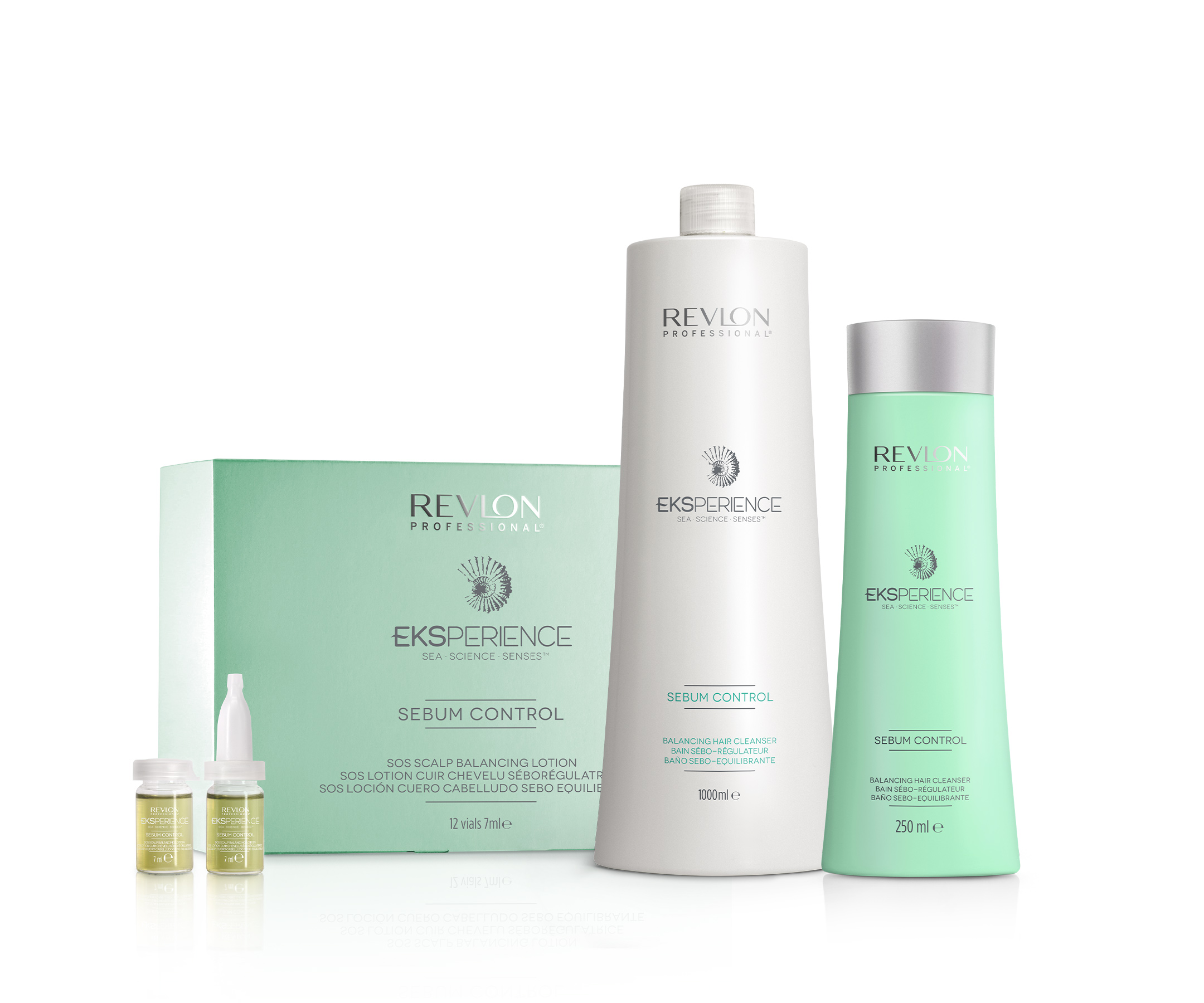 TALASSOTHERAPY
Eksperience™ Professional Talassotherapy is an exclusive multi-step salon service.
The Talassotherapy service begins by mixing a marine algae treatment with a particular essential extract Boost Multivitamin Cocktail to create a purifying fresh Eksperience.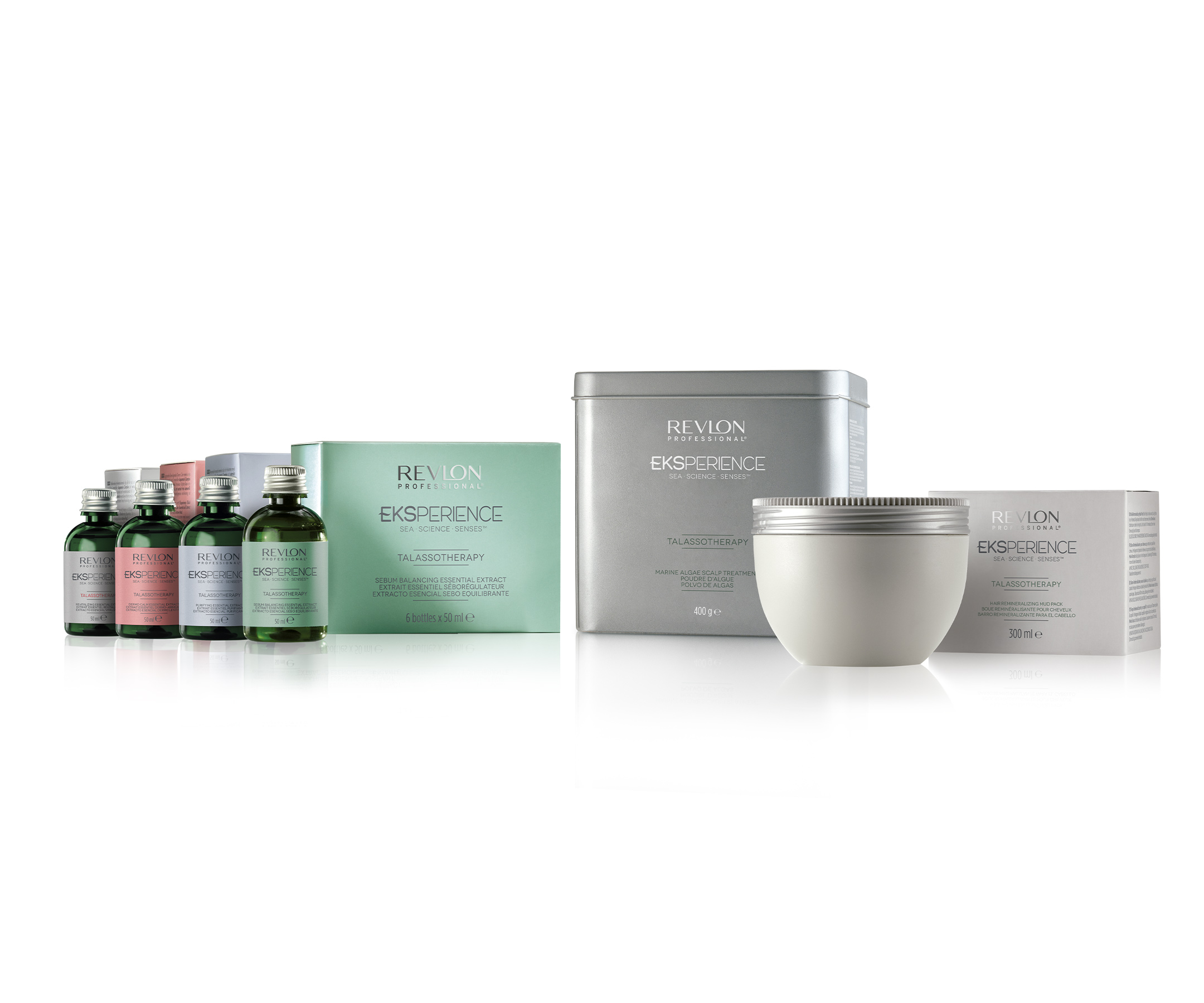 WAVE REMEDY
Curly and frizzy hair can lose shape and be difficult to manage.
The Eksperience™ Wave Remedy range is a formulated to help control hair is difficult to manage, providing hydration, an anti-frizz effect and anti-humidity protection for defined curls.
AQUAMARIS COMPLEX
Undaria Pinnatifida
+ Chrondus Crispus
+ Oligoelements
+ Fucus Actin